i wrote about the super cool
thrifty love gift exchange
awhile back, and the time has finally come to share what went down with my match up, gift finding, and the exchange.
it was definitely just as fun as i was hoping it would be, and i'll be all over jumping on that bandwagon if they do another go round. the only downer was that i was out of town when i gathered what i was sending to rebecca at
better life bags
, so i didn't get to shop at my favorite local thrift store. the fun part was that i was able to go to the vintage village in raleigh with janelle and found something there.. something that i liked enough to get one for myself and my thrift exchange partner. :)
a few shots from the vintage village.. never-ending piles of unimaginable treasures (and junk).
i actually spotted these cast iron cross wall hangings the first time i went to the vintage village a few months ago, but didn't pick one up. their "price on the spot" way of doing things paid off this time because he quoted me a lower price than he had before and it was within my $10 gift exchange budget. this is the one i bought for myself. i was in a tizzy to package and ship rebecca's, so i didn't get a picture, but i was happy to find out that the shade of blue matches her home decor perfectly. i think she loves hers as much as i do mine. :)
now onto what was inside the goodie box that i got from rebecca on saturday.
two super sweet vintage aprons. the one on top has lace on the pocket and is pink with white polka dots. the one with the plaid hearts has three large pockets that line the bottom. i love them so much.
a linen calender from 1969.. i have a couple of these already and think i will use them as curtains if we ever have a kitchen with a window. "bless this house".. yes, please. also, the cross-stitched tablecloth that everything is laying on.. i love the intricate floral pattern, and it fits perfectly on our square dinner table.
the sweetest tea cup and saucer that ruby literally squealed over when she helped me open the box. girlfriend loves a fancy tea party. also, a glass salad dressing bottle that i know for sure i'll use.. i usually shake my vinaigrette up in an old jar, so this will be a welcome change. :)
and my favorite thing of all.. this brown purse. it's clean, full of functional pockets, has
gold
clasps and buttons, and is a perfect over-the-shoulder size. for serious.. this picture does not do it justice. i've actually looked for something like this during my own thrifting trips and haven't been able to find anything. i'm basking in the small purse days in these last few months before i'm back to toting around a bulky diaper bag.
look at all of that pockety goodness.. yes, i'm already using it. :)
when i showed daniel my treats after he got home from work last night his ever so blunt response was, "man, she gave you way better stuff." ha leave it to him to tell you how he really feels. i felt so spoiled by such perfectly "me" things from a complete stranger that i'm inclined to feel the same, but i loved that blue cross enough when i picked it out for rebecca that i'm trying not to be too hard on myself about how different our offerings were. i feel like that's kind of the beauty of something like this exchange.. the possibilities are literally endless, and everything that's shared is so unique.
i say with all honesty that my favorite part of this was getting linked up with a completely random lady, perusing her blog for what she might enjoy in the form of thrifty love, and reading words and peeking into the heart and life of someone i might not have known about otherwise. my favorite post that i read from rebecca was this honest and insightful one about
being a mom
. i also got to learn about her awesome company
Better Life Bags
that gives jobs and funds to the less fortunate. what a treat to get to "know" rebecca!
fun fun! i encourage you to sign up next time they organize the thrifty love gift exchange.. i'll be sure to sound the alarm as soon as i find out it's coming. :)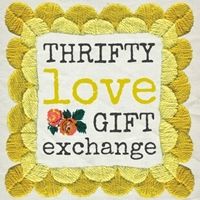 i also linked up with simple design for "share your thrift haul".